Mon, May 26 2014 06:00
Destination Luxury: Planning a personalized wedding by the sea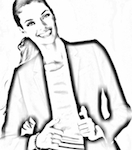 BY: JOAN LOVE
@lovestyleevents
A destination wedding should be just as personalized, detailed, and exquisite as if you would have planned it in your hometown. Gone are the days of settling for a cookie cutter event in an all-inclusive resort. Our expertise is in combining that perfect mix of local and out of town vendors to ensure a flawless event with top-notch customer service. We spend a lot of time cutting through the cultural and language barriers to make sure our clients expectations are met and surpassed. And with all our technological services including vendor web chats, 3D floorplans, and interactive mood boards, you will feel like you are planning your wedding in person the entire time.
From travel logistics, to cuisine design, family dynamics, to weather plans, we are experts at handling all the planning and producing of your wedding festivities so that you can enjoy your weekend in paradise surrounded by those closest to you.
Our team loves finding unique and charming venues in places like Puerto Rico, Virgin Gorda, and The Bahamas to name a few. This summer we will be visiting and blogging on some exciting new places to consider for you wedding. So if you are dreaming of a romantic wedding under the twinkling stars of a dark night in the Caribbean, stay tuned…
See Older Posts...