Thu, Mar 5 2015 09:11
The Woes and Joys of Planning a Corporate Event in The 305, aka "Miami"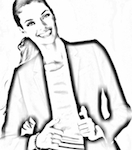 BY: JOAN LOVE
@lovestyleevents
I recently sat down with an exec for a very well know television studio in Los Angeles. She is shopping around for a producer to coordinate a big annual convention in Miami Beach. The thing is, this lovely lady had the same exact complaints that I hear from all my major clients from New York, Los Angeles, or really any other metropolitan city…. "Vendors are hard to reach", "No one emails me back", "They were an hour late"
I always chuckle, and say "Welcome to Miami!"
First of all, most people here operate on "Cuban" time. They leave to a meeting 15 minutes before knowing, very well, that the traffic on the Palmetto will delay them 30 minutes.
Second, even though Florida is a peninsula, Miamians live the "Island" life. Most are more concerned with happy hours, being in the scene, and boating plans, than with emailing you the proposal. Yes, even if you are offering a large sum of money. They don't care. They are too busy driving to Crossfit.
Thirdly, haven't you heard, Spanish is the first language here. They probably didn't understand your request in the first place. Better go get a cafecito, this is going to take a while.
So to my future corporate clients that actually want to have a successful and stress free event in the 305, my advice is to get a proper guide (AKA, a bilingual producer, raised in Miami, but trained in NYC). We live on this island and have spent years weeding out our vendor lists. We speak your language, but speak theirs too. We can help you navigate the scene down here to make sure your event is successfully produced AND successfully received by the Miami locals and visitors (that's a WHOLE other blog) And after we do all the work, you can do exactly what you flew down to do,
hang by the pool with a mojito
. Don't worry, we won't tell your boss ;)
See Older Posts...