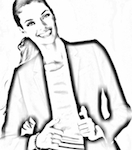 BY: JOAN LOVE 
@lovestyleevents
In December 2008, Joan Love Events was contacted by Mark Burnett Productions to produce a dream wedding for a deserving South Florida couple. We jumped at the opportunity to give back to our community and work with some of our favorite vendors. After only two short weeks, we pulled a dream team of vendors together and created a one million dollar, seaside paradise for Trine and Ryan, a couple that has endured the trials of liver transplantation. It was a pleasure to meet them and their family, and to be able to contribute some happiness to their life. Here are a couple pictures of our transformations and designs. All photos were taken by one of our fave photographers, Mr. Tony Gajate.
Before and After of Ceremony Tent: We added seagrass and plants for privacy, and a butterfly gate in the Bride's favorite colors. The tent was then draped to add softness.
Guest seating: After grabbing their flip flops, the guests were surprised and thrilled when they saw the beautiful seating arrangement. We wanted to create a comfortable, living room feeling on the sand. Different colored couches and chairs from Bubble Miami where alternated among the rows. Some side tables were added to hold the Ceremony programs. Finally, cushions in different patterns helped tie all the elements together.

Photo Walk: We had beautiful photos of the couple and their family framed. We mounted them on lighted planters to create a photowalk. Guests walked through and enjoyed seeing the pictures on their way into the Reception tent.


Before and After of Reception Tent: It took a lot of elements to fill up this 3,000 square foot tent! We used different tables, a giant sand sculpture, and different activity stations to keep the guests entertained. But, most importantly, the great intelligent lighting system installed by Everlast Productions made the tent an ever changing spectacle.

Sand Sculpture: Why have a dripping ice sculpture on the beach when there is so much sand to spare? This beautiful and personalized, 8 ft. tall sand castle, was the focal point of the Reception.  It was sculpted for us by Mark from Team Sandtastic.